Process Combustion Corporation (PCC) is growing. Fast. So are the opportunities in our fast-track project, combustion equipment company. PCC's success is directly related to our team-oriented approach, and commitment to hire and recognize quality individuals. We take pride in our most important asset: Our employees.
PCC is looking for highly motivated, talented and dependable individuals to lead the way in the combustion and thermal oxidation field. Current open positions are listed below.
PCC is a highly reputable and respected company in the combustion/oxidation engineering and pollution control field servicing several industries including the global chemicals, petrochemicals, pharmaceutical, and engineered wood products. All projects, large and small, are based on high engineering standards, strict quality control, firm delivery schedules, stringent environmental regulations, and overall project management. PCC's mission is to apply their know-how, with confidence, to design, engineer, install and service high-tech, energy-efficient, dependable combustion/oxidation and pollution control systems that provide cost effective environmental solutions for their global customers. They work hard to achieve mutually rewarding, long-term relationships with their clients and suppliers and continuously develop new technologies to meet emerging market needs.
IT / Network Specialist
Job Description:
PCC is looking for a highly motivated, experienced individual to monitor and maintain the organization's computer systems, software, and networks. This position demands an experienced and confident professional who can be responsible for diagnosing any hardware or software faults with these systems and solving the issues.
IT Support Duties and Responsibilities
Install and configure software and computer systems.
Troubleshoot and resolve issues with software or hardware.
Maintain Web Security systems and software
Ensure proper system back ups are maintained and prepare for disaster recovery scenarios
Walk colleagues or clients through steps to help them resolve their technical problems.
Maintain procedures and reports that provide technical support to the entire organization.
Analyze records and logs to spot underlying trends and potential issues.
Support the implementation of new solutions or applications.
Establish accounts for new users and assist with password or login problems.
Test, evaluate, and make decisions about new technology for the business.
Participate in business-wide meetings to provide insight into technical requirements.
IT Support Requirements and Qualifications
Associate's or bachelor's degree in computer science or a related field.
1+ years of experience in a technical support role.
Certifications are preferred, but not required.
Working knowledge and expertise with a variety of software, hardware, and applications, including, SQL, Exchange, Active Directory, CAD systems, and Solidworks.
Willingness to solve complicated problems and see projects through to completion.
Team-oriented attitude to help other colleagues and departments with technical problems.
Strong interpersonal communication and relationship-building skills.
Ability to manage time and effectively prioritize numerous projects at one time.
An attractive compensation package will be offered including an annual base salary and competitive benefits package.
If you are interested and meet the above requirements, contact John Dormire, Chief Operating Officer/Director of Marketing, at jdormire@pcc-group.com
Business Development/Territory Manager  - Gulf Coast Region
Job Description:
PCC is looking for a highly motivated, experienced air pollution control marketing individual to develop and promote our products within the Gulf Coast Region. This position demands an experienced and confident professional who can develop new opportunities while further expanding existing customer relationships. The ideal candidate is a self-starter and top producer with a proven track-record in prospecting, client management, and the desire to win.
Business Development/Territory Manager Key Success Factors:
Manage and implement all business development and marketing activities for the Gulf Coast Region.
Generate new business opportunities through marketing initiatives and networking
Implement integrated, multi-platform marketing / media campaigns as directed by management
Strong analytical, problem solving, and decision making capabilities\
Ability to be forward thinking and strategic to cultivate and develop opportunities for PCC.
Manage relationships throughout the entire marketing cycle, from initial contact to issue of a purchase order.
Full collaboration and support of the Application Engineering/Sales team
Interpersonal skills and savvy, polished and professional. a strong presenter and producer.
Ability to manage multiple marketing opportunities concurrently and actively manage pipeline development of those opportunities
Must be an enthusiastic self-starter, results oriented and accountable for his/her actions.
Must be self-confident, with humility and empathy. Possess a positive and proactive style.
Must be a committed team player - work with cross-functional groups/teams to ensure PCC's interests are at the forefront
Must be able to take direction from management.
Desired Knowledge / Experience / Skills / Abilities:
Technical background required. Chemical or Mechanical Engineering degree preferred.
Experience selling large capital equipment to a broad based, diverse industrial market.
Experience with air pollution control (APC) or combustion equipment a plus.
Minimum 5+ years selling and market development experience required.
Preferred location is Southeast/Gulf Coast (TX, LA, OK)
Highly motivated, self-starter, team player - Ability to work with minimal supervision in a remote, home office environment.
An attractive compensation package will be offered including an annual base salary, annual target bonus opportunity and competitive benefits package.
Application Pre-Amble Questions:
Do you reside in the Houston, TX or the Gulf Coast area?
Do you have a background in air pollution control equipment?
How many years of market development and sales experience do you have within the major capital equipment sector?
Are you a degreed Chemical or Mechanical Engineer?
If you are interested and meet the above requirements, contact Mike Foggia, Business Development Manager, at mfoggia@pcc-group.com
Benefits
PCC offers an attractive compensation and benefits package, including health and life insurance, dental and vision insurance, and 401(k).
PCC is an Equal Opportunity Employer (EEO).
Process Combustion Corporation provides equal employment opportunities (EEO) to all employees and applicants for employment, without regard to race, color, religion, gender, sexual orientation, national origin, age, disability, marital status, amnesty, or status as a covered veteran in accordance with applicable federal, state and local laws. PCC complies with applicable state and local laws governing non-discrimination in employment in every location in which the company has facilities. This policy applies to all terms and conditions of employment, including, but not limited to, hiring, placement, promotion, termination, layoff, recall, transfer, leaves of absence, compensation, and training.
PCC expressly prohibits any form of unlawful employee harassment based on race, color, religion, gender, sexual orientation, national origin, age, disability, or veteran status. Improper interference with the ability of PCC' employees to perform their expected job duties is absolutely not tolerated.
About PCC
Since its founding in 1969, PCC has been providing its global customers with combustion heat transfer and pollution control system expertise from its headquarters in Pittsburgh, Pennsylvania (USA). PCC designs, engineers, and supplies thermal oxidizers, afterburners, incineration systems, specialty combustion systems and bio-oxidation technologies that provide environmental treatment of gaseous and liquid waste streams generated from a wide range of industrial and municipal processes.
PCC's engineers are experienced in process design, process engineering, material selection, refractory design, instrumentation and controls, commissioning and start-up service, and project management. PCC has custom designed systems ranging from $5,000 to over $15 million. There's no combustion application PCC cannot handle.
PCC excels in providing fully integrated solutions to meet our customers' toughest air pollution control challenges. Our expertise and experience in gaseous & liquid waste incineration, VOC destruction, and acid gas systems is complemented by knowledge, understanding and practical know-how of heat recovery boilers, heat exchangers, wet scrubbers, baghouses, and electrostatic precipitators.
We serve industries including Chemical, Petrochemical, Refining, Automobile, Pharmaceutical, Manufacturing, Textile, Rubber, Metals, Wood Products, Sulfur, Carbon, and the Pulp and Paper industries.
Location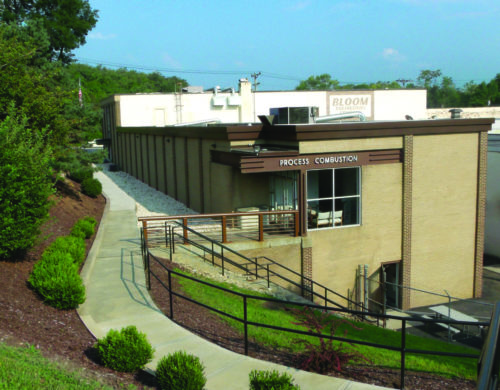 Situated in the South Hills area of Pittsburgh, Pennsylvania, approximately 45 minutes from Greater Pittsburgh International Airport, PCC offers challenging technical work in a small company atmosphere. We encourage personal growth, yet emphasize "team."
Have a question? Need information?
Tell us your request.